Fusion Jointing Machine and Cutting Tools
Fusion jointing technologies: IR Plus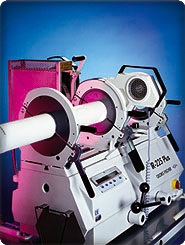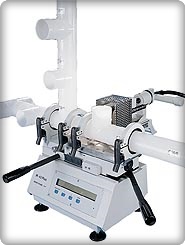 The advantage of this butt fusion method are incontestable. We have improved our IR fusion machines, the IR 63 and IR 225. Compared to conventional butt fusion, the new IR-Plus fusion machines cut process time by up to 50 %. Georg Fischer offers thus the fastest butt fusion process in the industrial plastic piping construction, worldwide.

The principle of IR Plus
The IR Plus fusion technology uses the material temperature of the welding zone to determine the end of the fusion process. As soon as the welding zone temperature of the fitting is below the defined unclamping temperature, the fusion process (cooling time) is being finished. The cooling time for the IR-Plus fusion machines is calculated on the basis of the ambient temperature and the bead surface temperature. To increase the cooling capacity, an additional ventilation is included in the IR-225 Plus.
The new IR Plus at a glance:
Faster fusion process, fusion time reduced by an average 50 %

Shorter installation time

Improved profitability

Fully controlled fusion process

Very high reproducibility of the fusion results
Fusion jointing technologies: IR Plus fast and economical
In just a short time, the Georg Fischer IR Fusion Technology has been proven effective by many satisfied customers in different industries.
Fusion jointing technologies: BCF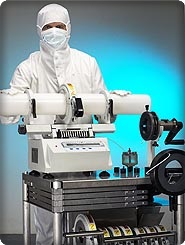 Following the successful introduction of BCF fusion technology for the dimension range d20 to 63 mm Georg Fischer offers additional, larger sizes d75, d90 and d110. The BCF Plus supplementary dimensions package consists of the corresponding heating stations, clamps and facer including the dimension set for the larger dimensions and all can be easily mounted on the existing basic BCF Plus machine.

The life science, semiconductor and chemical process industries place new demands on piping systems. With the BCF Plus supplementary package, customer requests for the larger dimensions are met optimally.
The BCF fusion technology joins SYGEF®Standard (PVDF) and PROGEF®Natural (PP-n) piping components of dimensions from d20 to d110 without any irregularities, beads or crevices. The extremely compact fusion machine, which is also ideal for on-site fusion, is very reliable, easy to handle and creates reproducible and very strong fusion welds. It can be used in a variety of applications, especially those exerting stringent demands on the piping systems (e.g. pharmaceutical, semiconductor, foodstuff industries, etc.).
Several new improvements have been integrated in the BCF Plus fusion machine, compared to its predecessor, the BCF Standard. Some of the most important features are listed here:
SYGEF

®

Plus (PVDF-HP), SYGEF

®

Standard (PVDF), PROGEF

®

Natural (PP-n) can all be fused on the same machine

Standard butt fusion fittings can be used, thus cutting down on costs and enabling more compact installations

The transport crate which functions as a garage guarantees the safe transport of the machine and all its accessories

The stainless steel tool cart can be wheeled around and even taken into clean rooms

The on-site fusion equipment saves space and time (up to 60 % shorter fusion time thanks to the built-in ventilator)

Can be used with either 115 V / 230 V

Traceability of fusion data in the form of paper protocols, labels or per PCMCIA interface for further processing on a PC

Optimized accessories, such as facer, back support, hose box and record card for electronic evaluation of fusion data, make it easier for the operator to work on this machine